Full Text
La sarcoidosis es una enfermedad multisistémica que se caracteriza por la existencia de granulomas no caseificantes1, siendo el pulmón el órgano que más frecuentemente se encuentra afectado y es el responsable en la mayor parte de los casos de la morbimortalidad2. Afecta generalmente a jóvenes y adultos de edad media3. El hallazgo radiológico más típico es el de adenopatías hiliares bilaterales, con o sin adenopatías paratraqueales derechas, seguido de patrón intersticial pulmonar1. La cavitación es un hallazgo inusual en la sarcoidosis pulmonar2,3.
Presentamos el caso de un varón de 38 años, caucásico, con antecedente personal de asma bronquial en la infancia y exfumador desde hace 4 meses. Consultó por historia de tos matutina de 2 meses de evolución, desencadenada por cambios de ambiente y ejercicio, con expectoración mucosa y ocasionales vómitos. La auscultación pulmonar fue normal, así como las pruebas de función respiratoria incluido el test de la marcha.
La radiografía de tórax mostró un patrón intersticial difuso bilateral sin gradiente ápico-basal, consistente en micronódulos y al menos 2 lesiones cavitadas en base pulmonar derecha (fig. 1A). La tomografía computarizada de alta resolución (TACAR) de tórax confirmó la existencia de un patrón intersticial micronodular de distribución perilinfática además de múltiples nódulos, muchos cavitados con pared gruesa y lisa sin claros signos sugestivos de malignidad, más numerosos en campos superiores y de mayor tamaño en base pulmonar derecha y la presencia de adenopatías hiliares bilaterales (figs. 1B y C). En base a los hallazgos radiológicos los diagnósticos diferenciales que se plantearon fueron histiocitosis de células de Langerhans, sarcoidosis y, menos probable por el contexto clínico, infección tuberculosa o fúngica. El cultivo del broncoaspirado fue negativo para Mycobacterium y hongos. Se le realizó una biopsia transbronquial y el estudio anatomopatológico de las muestras tomadas del lóbulo superior derecho y lóbulo inferior derecho reveló neumonitis granulomatosa no necrosante compatible con sarcoidosis (fig. 1D).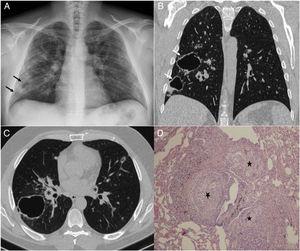 Figura 1.
A) Radiografía simple de tórax: patrón intersticial difuso bilateral, consistente en imágenes parcheadas de aumento de densidad de predominio en campo pulmonar derecho (flechas). Tomografía computarizada de alta resolución (TACAR) de tórax. B) Reconstrucción coronal. C) Imagen axial, ambas con ventana de pulmón: patrón intersticial micronodular de distribución perilinfática, nódulos cavitados con pared gruesa y lisa (flechas) y adenopatías hiliares bilaterales (asteriscos). D) Microfotografía de biopsia transbronquial: parénquima pulmonar con numerosos granulomas no necrosantes (estrellas) de distribución peribronquial, constituidos por células epitelioides y células gigantes multinucleadas (hematoxilina-eosina, ×40).
(0.32MB).
Las lesiones pulmonares cavitadas constituyen un hallazgo atípico en la sarcoidosis. Aunque están presentes en un 10% de los pacientes en estadio avanzado, acompañadas de signos de fibrosis con distorsión de la arquitectura y bronquiectasias de tracción; suponen menos del 0,8% como forma de presentación1, generalmente en individuos jóvenes con enfermedad acinar o nodular1. Es por tanto un dilema diagnóstico, que podría estar infradiagnosticado2, ya que requiere una adecuada correlación clínica y confirmación histológica3. Clínicamente cursa de forma menos sintomática que otras enfermedades cavitarias2. Para su diagnóstico los cultivos bacteriano y fúngico han de ser negativos, no debe haber derrame pleural y se han de excluir lesiones radiológicamente similares como bullas o bronquiectasias2. Histológicamente las cavidades consisten en un área de necrosis central y un conglomerado de granulomas sarcoideos que confluyen revistiendo su pared1,2. La cavidad puede estar presente en el momento inicial o desarrollarse después de meses o años, pueden permanecer estables durante un tiempo, aunque también pueden desaparecer o formarse nuevas cavidades3.
Bibliografía
[1]
E. Criado, M. Sánchez, J. Ramírez, P. Arguis, T.M. de Caralt, R.J. Perea, et al.
Pulmonary sarcoidosis: Typical and atypical manifestations at high-resolution CT with pathologic correlation.
Radiographics, 30 (2010), pp. 1567-1586
[2]
Z.F. Özseker, A. Yilmaz, B. BayramgÜrler, D. GÜneylioglu.
Cavitary sarcoidosis: Analysis of two cases.
Respirology, 7 (2002), pp. 289-291
[3]
S. Hours, H. Nunes, M. Kambouchner, Y. Uzunhan, M.W. Brauner, D. Valeyre, et al.
Pulmonary cavitary sarcoidosis: Clinico-radiologic characteristics and natural history of a rare form of sarcoidosis.
Medicine (Baltimore), 87 (2008), pp. 142-151