Full Text
Paciente mujer de 53 años con antecedente de neoplasia de colon diagnosticada en 2016, y que en una TC toracoabdominal de seguimiento presenta un nódulo pleural sólido calcificado adyacente al hiato esofágico (figs. 1A y B). En una TC posterior se observa la migración de dicho nódulo dentro de la cavidad pleural hasta el receso costofrénico posterior que orienta el diagnóstico hacia un pleurolito (figs. 1C y D).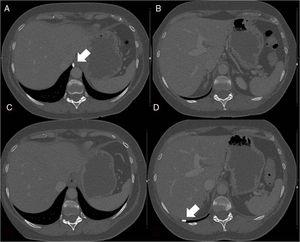 Figura 1.
A y B) Imágenes en ventana de hueso de la TC torácica donde se observa el nódulo pleural derecho calcificado adyacente al hiato esofágico. C y D) Imágenes en ventana de hueso de una TC de control posterior a las imágenes A y B en las que el nódulo pleural calcificado ha migrado hasta el receso costofrénico posterior.
(0.13MB).
Un pleurolito o toracolito es una entidad rara cuya prevalencia es del 0,086%1, y que consiste en un cuerpo, calcificado o no, que se mueve libremente dentro de la cavidad torácica en ausencia de antecedentes de traumatismo, intervención o pleuritis2. Suele observarse de forma incidental en pacientes mayores de 50 años asintomáticos, más frecuentemente localizado en el hemitórax izquierdo. Aunque puede presentar calcificaciones, por la TC los pleurolitos pueden ser indistinguibles de un nódulo intrapulmonar, siendo difíciles de puncionar percutáneamente, por lo que el diagnóstico suele hacerse al observar que el nódulo migra. Se han formulado varias teorías sobre su origen, destacando la que postula que corresponde con un foco de necrosis de la grasa pericárdica o pleural desprendida3, lo que explicaría su composición histológica y su localización típica2.
Bibliografía
[1]
F. Kinoshita, Y. Saida, Y. Okajima, S. Honda, T. Sato, A.H.S. Hayashibe.
Thoracolithiasis 11 cases with a calcified intrapleural loose body.
J Thorac Imaging, 25 (2010), pp. 64-67
[2]
T. Suwatanapongched, C. Nitiwarangkul.
Thin-section CT findings of thoracolithiasis.
Jpn J Radiol, 35 (2017), pp. 350-357
[3]
N. Kang, Y. Choi, Y. Im, J. Choe, J. Kim, J. Han, et al.
A rare case of numerous thoracolithiasis with chest discomfort.
Resp Med Case Rep, 25 (2018), pp. 264-266