Full Text
The histological pattern of acute fibrinous and organizing pneumonia (AFOP) is a very rare form of idiopathic interstitial pneumonia, characterized by fibrin balls distributed in patches within the alveoli. We report the case of a 72-year-old woman who presented with progressive subacute pneumonia associated with AFOP, diagnosed by computed tomography-guided large core needle biopsy, which responded well to treatment with corticosteroids.
A 72-year-old woman was admitted with a 1-month history of progressive dyspnea, dry cough, low-grade fever, asthenia, anorexia and weight loss. Following a previous chest radiograph, she had been diagnosed with right upper lobe (RUL) pneumonia (Fig. 1A), for which she had received levofloxacin 500mg/day for 7 days, with no improvement. She had no occupational exposure of interest, and no toxic habits. Clinical history included childhood bronchial asthma, mild kidney failure, and hypothyroidism. On admission, her general condition was reasonable, temperature 37.2°C, blood pressure 130/75mmHg, heart rate 69bpm, no shortness of breath, with 92% oxygen saturation while breathing room air. Physical examination revealed dry crackles throughout the right hemithorax and left lung base on auscultation. Chest radiograph showed progression of the RUL infiltrate and loss of volume (Fig. 1B). Clinical laboratory tests showed mild normocytic, normochromic anemia, with leukocytes 11460, ESR 120mm/h, CRP 29.5mg/dl, and a pattern of cholestasis (alkaline phosphatase 389IU/l, GGT 83IU/l) with negative ANA and ANCA.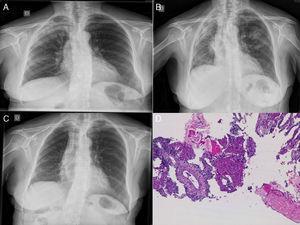 Fig. 1.
(A) Chest radiograph: infiltrate in right upper lobes. (B) Infiltrates in right upper lobe, right lower lobe and left upper lobe with loss of volume in the right hemithorax. (C) Favorable radiological progress. (D) Computed tomography-guided lung biopsy: inflammatory thickening of the septa with intra-alveolar fibrin balls.
(0.24MB).
Suspecting that the slow resolution of the pneumonia was due to unusual pathogens, we started treatment with piperacillin–tazobactam, and a chest CT was performed, revealing extensive consolidations in the posterior regions of the right lung with pulmonary collapse. A bronchoscopy with transbronchial biopsy was performed twice, and was inconclusive on both occasions (chronic inflammatory component and pneumocytic hyperplasia with mild atypia). The patient's clinical situation worsened and radiological signs progressed, so a CT-guided lung biopsy was performed. The endoscopic samples obtained were negative for pathogens, so treatment began with methylprednisolone at a starting dose of 40mg/8h. Clinical progress was exceptional, with frank clinical and radiological improvement after 48h, and radiography returned to normal after one week of treatment (Fig. 1C). Biopsy showed a typical AFOP pattern (Fig. 1D), characterized by inflammatory thickening of the septa and fibrin balls in the alveoli. After 10 months of tapering corticosteroid treatment (now at a dose of prednisolone 10mg/48h), the patient is currently asymptomatic.
AFOP was first described in 2002 by Beasley et al. It consists of a rare histological pattern of interstitial pneumonia characterized by the presence of fibrin balls in the alveolar space (distinct from the intra-alveolar buds of cryptogenic organizing pneumonia) in a patchy distribution, with infiltration by inflammatory cells and pneumocytic hyperplasia type 2, and absence of hyaline membranes (differential diagnosis with diffuse alveolar damage).1–3 Etiology is often unknown, although it has been described in association with autoimmune diseases, infections, drugs, lung transplantation, and cancer.4 While it can present as a very severe and acute form of acute respiratory distress, in most cases, like ours, onset is gradual and progressive, and prognosis is more favorable.1 The lack of specific clinical and radiological signs5 means that clinical suspicion and a lung tissue sample are essential for a correct diagnosis. Definitive diagnosis is obtained from a lung biopsy and treatment is based on corticosteroids, although no standard regimen has yet been determined. Immunosuppressive treatment, such as mycophenolate mofetil, azathioprine or cyclophosphamide, is reserved for cases associated with autoimmune disease or in case of relapse.1,3
Given our patient's clinical course, we believe that AFOP should be considered in the differential diagnosis in an individual with poorly progressing pneumonia. If the patient's clinical condition permits, the diagnostic process should eventually include a lung biopsy, given the therapeutic implications in these cases.
Please cite this article as: Nieto-Codesido I, Hermida-Romero T, Marcos PJ. Neumonía subaguda como manifestación de una neumonía organizada fibrosante aguda. Arch Bronconeumol. 2017;53:167–168.