Full Text
Mujer de 57 años, fumadora, sin otros antecedentes de interés. Acude por disnea de una semana de evolución, tos con expectoración y febrícula. La radiografía de tórax muestra múltiples imágenes nodulares bilaterales, algunas cavitadas (fig. 1a). En la tomografía computarizada (TC) se confirma la presencia de múltiples masas cavitadas en ambos hemitórax, con calcificaciones amorfas (figs. 1b y c). La serología frente a hidatidosis fue negativa, así como el cultivo de micobacterias en medio de Löwenstein de las muestras de esputo y broncoaspirado.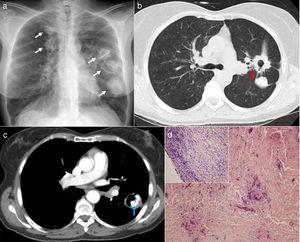 Figura 1.
a) Radiografía simple de tórax: múltiples imágenes nodulares en ambos campos pulmonares, algunas cavitadas; b) TC de tórax (ventana parénquima pulmonar): nódulos pulmonares con cavitación central y retracción pleuroparenquimatosa (flecha); c) TC de tórax (ventana mediastino): nódulo cavitado y con calcificación amorfa interna (flecha), y d) Histológicamente se observa una constitución de tejido colágeno denso con microdepósitos de calcio centrales y acúmulos de linfocitos en la zona central y en la periferia (hematoxilina-eosina ×40).
(0.27MB).
La biopsia transbronquial no fue concluyente, por lo que se realizó biopsia quirúrgica. Macroscópicamente se visualizan al menos 4 nódulos blanquecinos y de consistencia dura con retracción y adherencias pleuropulmonares. El nódulo remitido para estudio histológico está constituido de tejido colágeno denso, con microdepósitos cálcicos centrales y acúmulos de linfocitos (fig. 1d). Los hallazgos fueron compatibles con granuloma hialinizante pulmonar (GHP).
El GHP es una enfermedad poco frecuente1,2, que clásicamente se presenta en pacientes de mediana edad con manifestaciones respiratorias no específicas o síntomas generales2. Son necesarias técnicas invasivas para un diagnóstico histológico1. Aunque su fisiopatología no está clara se supone un origen inmunológico1,2. Tiene buen pronóstico1 y generalmente no requiere tratamiento, aunque los corticoides han demostrado eficacia1,2.
Bibliografía
[1]
R. Lhote, J. Haroche, L. Duron, N. Girard, M.P. Lafourcade, M. Martin, et al.
Pulmonary hyalinizing granuloma: A multicenter study of 5 new cases and review of the 135 cases of the literature.
Immunol Res, 65 (2017), pp. 375-385
[2]
K. Pfeifer, A. Mian, A. Adebowale, A. Alomari, V. Kalra, E. Krejci, et al.
Radiographic and Pathologic Manifestations of Uncommon and Rare Pulmonary Lesions.
Can Assoc Radiol J, 67 (2016), pp. 179-189