Full Text
A 48-year-old woman with Noonan syndrome presented with episodes of repeated fever and dyspnea and occasional expectoration of large volumes of dense sputum followed by chest tightness and palpitations. Bronchial molds were observed when the sputum was evaluated (Fig. 1a). An X-ray and a computed tomography scan were performed showing ground glass parenchymal opacities (Fig. 1b and c) and a pattern of interlobular septal thickening (Fig. 1d). Pathology study of bronchial molds showed amorphic fibrinomucoid or arboriform material with nonspecific inflammation. With a diagnosis of plastic bronchitis and multilobar pneumonia, treatment began with levofloxacin and respiratory physiotherapy with resolution of the symptoms.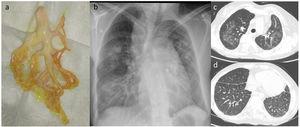 Fig. 1.
(a) Bronchial mold expected by the patient. (b) Posterior-anterior chest X-ray showing multilobar infiltrates in both lung fields. (c) Thoracic computed tomography showing multiple parenchymal opacities in tarnished glass with geographic distribution in both lung fields. (d) Chest computed tomography with smooth thickening of the interlobular septa in both lower lobes that in a patient with Noonan syndrome suggest the presence of lymphatic dysplasia.
(0.24MB).
Plastic or fibrinous bronchitis is an uncommon entity characterized by the formation of branched and impacted bronchial molds that are subsequently expectorated1,2. Patients may have repeated respiratory infections and, in the case of bilateral disease, may be at risk of asphyxia1. It has been associated with lung diseases, such as bronchial asthma and allergic bronchopulmonary aspergillosis, and with abnormal lymphatic drainage1,2 such as pulmonary dysplasia and lymphangiectasias which have been described in Noonan syndrome. However, no cases have been reported in patients with this syndrome. Treatment consists of facilitating mold expectoration and optimizing underlying diseases2.
References
[1]
B.K. Rubin.
Plastic bronchitis.
Clin Chest Med, 37 (2016), pp. 405-408
[2]
M. Itkin, F.X. McCormack, Y. Dori.
Diagnosis and Treatment of Lymphatic Plastic Bronchitis in adults using advanced lymphatic imaging and percutaneous embolization.
Ann Am Thorac Soc, 10 (2016), pp. 1689-1696
Please cite this article as: López-Alba A, Aldao-Argüelles I, de Granda-Orive JI. Bronquitis plástica y síndrome de Noonan. Arch Bronconeumol. 2021;57:705.