Full Text
Varón de 14 años sin antecedentes de interés que consulta por síndrome febril de 6 meses de evolución. Analíticamente destacaban leucocitosis y elevación de la PCR y de los niveles séricos de IgG, específicamente de la IgG4. La tomografía computarizada, la resonancia magnética y la PET/TC mostraron una masa mediastínica anterior paradiafragmática derecha de aspecto infiltrante con realce heterogéneo intenso (figs. 1A-C) y marcado hipermetabolismo (fig. 1D). El estudio anatomopatológico tras biopsia percutánea reveló una lesión inflamatoria secundaria a enfermedad relacionada con IgG4. Tras 4 meses de tratamiento con glucocorticoides se produjo la total resolución del cuadro (fig. 1E).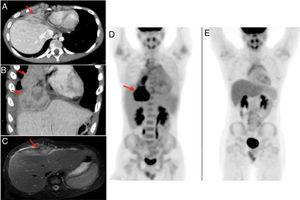 Figura 1.
Tomografía computarizada torácica y abdominopélvica con contraste intravenoso en planos axial (A) y coronal (B), donde se observa la masa mediastínica anterior con realce heterogéneo, de aspecto infiltrante (flechas rojas). Imagen de la RM potenciada en T2 con supresión grasa (C) en la que se identifica la masa mediastínica anterior hiperintensa (flecha roja). La lesión era marcadamente hipermetabólica en las imágenes de PET/TC iniciales (SUVmáx=11,9) (D) y desapareció en la PET/TC transcurridos 4 meses tras comenzar el tratamiento (E).
(0.08MB).
La enfermedad relacionada con IgG4 es una entidad asociada a mecanismos autoinmunes caracterizada por elevación de los niveles séricos de IgG4, fibrosis e infiltración tisular por células plasmáticas secretoras de IgG4 y respuesta a los glucocorticoides1.
Las adenopatías son la forma más frecuente de afectación mediastínica, aisladas o concomitantes con la afectación de otros órganos1, siendo excepcional la presentación en forma de masa2.
Ante un paciente con una masa mediastínica, debemos incluir en el diagnóstico diferencial la enfermedad relacionada con IgG4. Un adecuado diagnóstico y tratamiento conservador pueden evitar la realización innecesaria de procedimientos invasivos diagnóstico-terapéuticos y sus comorbilidades asociadas.
Bibliografía
[1]
A. Martínez-de-Alegría, S. Baleato-González, R. García-Figueiras, A. Bermúdez- Naveira, I. Abdulkader-Nallib, J.A. Díaz-Peromingo.
IgG4-related Disease from Head to Toe.
Radiographics, 35 (2015), pp. 2007-2025
[2]
R. Yoshikawa, H. Igai, F. Ohsawa, T. Yazawa, M. Kamiyoshihara.
Immunoglobulin G4 related disease association with an isolated anterior mediastinal tumor.
Ann Thorac Surg, 107 (2019), pp. 405-407