Full Text
To the Editor:
Life-threatening hemoptysis is a medical emergency defined as the expectoration of over 250ml blood in a 24-h period. If left untreated, mortality is 80%. Most cases originate in hypertrophic bronchial arteries. However, a small percentage of life-threatening hemoptysis occurs in pulmonary arteries weakened by infectious processes caused by mycobacteria or fungi.1,2
We report the case of a 55-year-old man with advanced human immunodeficiency virus infection (stage C3), smoker and former intravenous drug user, who presented at our hospital with life-threatening hemoptysis, hypotension and tachycardia. In addition to emphysema phenotype chronic obstructive lung disease and hepatitis C-related liver cirrhosis, he had had multiple lung infections caused by unusual pathogens (Pneumocystis jirovecii, non-tuberculous mycobacteria, semi-invasive aspergillosis, etc.) that were treated, although treatment adherence was poor. A chest computed tomography (CT) angiography was performed, showing an aneurysm 1cm in diameter in the subsegmentary pulmonary artery of the right lower lobe (Fig. 1) and signs of ipsilateral pulmonary hemorrhage (Fig. 1C), associated with a Rasmussen's aneurysm. In view of the patient's hemodynamic instability, an angiogram with selective embolization of the aneurysm was performed, achieving complete occlusion of the lesion (Fig. 1D) and immediate resolution of hemoptysis. No dilation of the bronchial arteries or extravasation of contrast medium from these vessels was observed.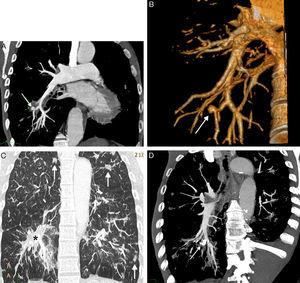 Fig. 1.
(A) Coronal maximum intensity projection (MIP) CT reconstruction, showing a Rasmussen's aneurysm (arrow) on a subsegmentary branch of the right lower lobe artery. (B) CT volumetric reconstruction (3D or volume rendering) confirming Rasmussen's aneurysm (arrow). (C) Coronal MIP CT reconstruction (pulmonary parenchyma window) showing signs of lung hemorrhage (asterisk) and bilateral residual infectious parenchymal opacities (arrows). (D) Coronal oblique MIP CT reconstruction after embolization showing embolization material (coil) occluding the Rasmussen's aneurysm (arrow).
(0.31MB).
Rasmussen's aneurysm is an uncommon severe complication of pulmonary tuberculosis, with a prevalence of less than 5%. If it ruptures, mortality is over 50%.3 Although this complication was first described in 1868 by Fritz Valdemar Rasmussen in patients with tuberculous cavities and hemoptysis, the term "Rasmussen's aneurysm" nowadays has a wider meaning, and includes aneurysm or pseudoaneurysm of the pulmonary arteries in the context of diseases involving destruction of the pulmonary parenchyma.4 These diseases cause progressive weakening of the arterial wall, as the adventitia and media layers are replaced by granulation tissue and fibrin, resulting in thinning of the vessel wall and the risk of pseudoaneurysm formation. CT-angiography is the diagnostic test of choice in patients with hemoptysis: it provides anatomical information on the Rasmussen's aneurysm and the underlying causes and guides the interventional radiologist precisely toward to the aneurysm, while simultaneously studying the bronchial arteries.5 During a chest CT-angiography in patients with hemoptysis, radiologists must observe not only the systemic circulation, but also the pulmonary arteries, particularly in patients with a history of destructive lung diseases. Failure to do so may prevent detection of a Rasmussen's aneurysm, and if the patient finally undergoes an angiogram for treatment of their hemoptysis, the result may be unnecessary embolization of the systemic arteries.
Our case is of interest because, while our patient did not have a history of tuberculosis, the cause of his life-threatening hemoptysis was a Rasmussen's aneurysm associated with his previous history of lung infections.
Please cite this article as: Oriol AJ, Ayala Carbonero AM, Sarasúa LG. Hemoptisis amenazante secundaria a aneurisma de Rasmussen en paciente VIH. Arch Bronconeumol. 2016;52:439–440.