Full Text
Dear Editor:
The World Health Organization classification of lung cancer categorizes diffuse idiopathic neuroendocrine cell hyperplasia as a premalignant lesion. This entity presents with clinical and radiological manifestations, such as cough and pulmonary nodules, that are so non-specific that they present a diagnostic challenge for clinicians. We report 2 cases of this disease and describe our diagnostic experience.
Case 1: A 66-year-old woman with ductal carcinoma in situ of the breast with positive hormonal receptors, treated with lumpectomy, radiation therapy and adjuvant hormone therapy. She developed chronic pericardial effusion associated with radiation therapy requiring evacuation. In a follow-up computed tomography (CT), pulmonary nodules were observed that were subsequently evaluated.
She had a history of chronic cough for many years. Lung function tests showed forced vital capacity of 1820cm3 (80.5%) and a forced expiratory volume in 1 second of 1120cm3 (59.6%), ratio 61.33%. CT revealed multiple nodules of different sizes distributed throughout both lung fields. Six months later, the number and size of the nodules had increased (Fig. 1).
Positron emission tomography (PET)-CT revealed solid nodules measuring between 8 and 14mm, with maximum SUV of 3.88. Others showed no uptake. Three enlarged lymph nodes were also observed with maximum SUV of 6.8–8.0mm in the right cervical and retromandibular region. Bronchoscopy provided no significant information, with the exception of Aspergillus fumigatus growth in the bronchial aspirate which subsequently became negative. Two months later, a video-assisted thoracoscopy with wedge resections of the middle and lower right lobe showed diffuse idiopathic neuroendocrine cell hyperplasia associated with tumorlets and peripheral typical carcinoid tumors (Fig. 2).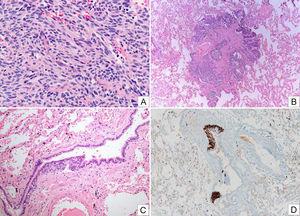 Fig. 2.
Photographic composition showing images of a carcinoid tumor (A, HE) with some fusocellular morphology, and no evidence of atypical cells, necrosis or significant mitotic activity; a tumorlet (B, HE) and intraepithelial neuroendocrine cell hyperplasia (C, HE and D, chromogranin immunostaining).
(0.67MB).
Case 2: A 29-year-old woman with bilateral breast prostheses, with a diagnosis of extrinsic bronchial asthma presented with a complaint of chronic cough. Spirometry, chest radiograph, and paranasal sinuses were normal. Bilateral pulmonary micronodules with a residual appearance were seen on chest CT. Nine months later, multiple pulmonary nodules were detected in the patient's mother and removed with wedge resection of the middle lobe and right lower lobe. The pathology report described peripheral typical carcinoid tumor associated with tumorlets and diffuse idiopathic neuroendocrine cell hyperplasia. Resected mediastinal nodes were normal. A more detailed study revealed a multifocal proliferation of neuroendocrine cells consisting of at least 2 tumor lesions larger than 5mm, and more than 7 lesions smaller than 5mm, and others in the form of intraepithelial neuroendocrine cell hyperplasia. Less than 2 mitosis/10 HPF were observed. Chromogranin, synaptophysin and CD 56 were positive, and the calcitonin study was negative. Given these results in a first-degree relative, we requested a follow-up CT in our patient that provided a more detailed report of multiple pulmonary nodules less than 1cm in diameter, with a mean diameter of about 3mm, bilateral, diffuse rounded, with no calcification in the interior; in number, about 25 in the right lung and 15 in the left lung. Bronchoscopy detected direct signs of neoplasm in the bronchus of the lingula. Biopsy revealed a well-differentiated typical carcinoid lesion. Scintigraphy with fluorine-18-L-dihydroxyphenylalanine (18F-DOPA) revealed 3 nodules in the right lower lobe, the largest of which was 9mm, with a maximum SUV of 1.09 (parenchymal SUV 0.49), and 4 nodules in the left lung, of which 2 were in the lingula, the largest measuring 13mm with maximum SUV of 0.78 (parenchymal SUV 0.37) and another measuring 9mm with maximum SUV of 0.79.
Diffuse idiopathic neuroendocrine cell hyperplasia (DIPNECH) is an entity that every year becomes more common in the literature.1 It comprises a generalized, extensive overgrowth of neuroendocrine cells in the peripheral airway and is considered a premalignant lesion. Clinical presentation can be asymptomatic, as was the case of our second patient's mother, or can involve cough, dyspnea, and wheezing, all of which are manifestations of such prevalent diseases as asthma or bronchiolitis. Consequently, this entity is infrequently suspected or investigated, so its true prevalence is unknown. Lung function tests can range from normal to an obstructive or mixed pattern. In the imaging tests, the most common presentation in a bilateral nodular pattern.2 In our second case, we did not have a larger sample, as recommended for the diagnosis of this disease,3 but the family history of diffuse idiopathic neuroendocrine cell hyperplasia, the patient's own clinical history, and the radiological changes, along with the biopsy results, led to a reinterpretation of the lesions that initially were interpreted as residual. We are unaware of any reports of familial accumulation of this disease. Gorschtein et al.4 did not find any relationship among any of the 11 cases in their series. On other occasions, radiological images show air trapping or mosaic attenuation pattern, which could go unnoticed if expiratory CT is not performed.5 Standard PET-CT with glucose is not sensitive for carcinoid tumors, due to their small size and sparse mitotic activity. Markers such as octreotide or 18F-DOPA amino acid analog are used. Overall prognosis is good, although some exceptional cases may progress poorly if distant metastases occur.
Please cite this article as: Lima Álvarez J, Muñoz Gutiérrez J, Cruz Medina AJ, Reyes Núñez N, Rodríguez Zarco E. Hiperplasia idiopática difusa de células neuroendocrinas, tumorlets y carcinoides típicos. Arch Bronconeumol. 2016;52:623–625.