Full Text
Pneumocystis jirovecii pneumonia (PJP) is an opportunistic infection that is particularly common in patients with human immunodeficiency virus (HIV), although it is also encountered in patients receiving corticosteroids, immunosupressants and anticancer drugs. Temozolomide is a relatively new alkylating anticancer agent used as a first-line drug in the treatment of glioblastoma multiforme (GM).1 A rare but serious complication of temozolomide is the appearance of PJP. The pathogenic mechanism is associated with the induction of lymphocytopenia and selective T cell dysfunction.2 Few references are available in the literature that describe the development of PJP in patients receiving temozolomide treatment.3
We report the case of a 69-year-old woman with a diagnosis of multifocal GM (Fig. 1A), who presented with a clinical picture of fever and rapidly progressing respiratory failure, 4 weeks after starting temozolomide and high-dose corticosteroids. Chest radiograph (Fig. 1B) showed increased ground glass density in both lungs, which was confirmed on chest computed tomography (CT) (Fig. 1C). An incidental finding was bilateral pulmonary thromboembolism (Fig. 1D). PJP was suspected, so fiberoptic bronchoscopy was performed which confirmed PJP in bronchoalveolar lavage. The patient responded favorably, both clinically and radiologically, to anticoagulants and antibiotic treatment with trimethoprim–sulfamethoxazole.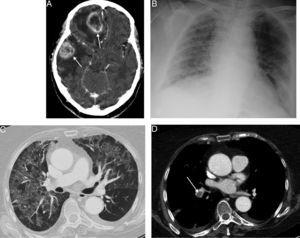 Fig. 1.
(A) Axial CT image of the head, after administration of intravenous contrast medium, showing 2 intra-axial ring enhancing lesions (arrows) in the left cerebral hemisphere, with a significant mass effect and associated perilesional edema. (B) Anteroposterior chest radiograph showing ground glass opacities in both lungs. (C) Axial image of chest CT (lung window), showing a noteworthy mosaic pattern in the pulmonary parenchyma, with areas of ground glass attenuation alternating with others of less density, typical of Pneumocystis jirovecii infection. (D) Axial image of chest CT (mediastinum window) with intravenous contrast (obtained at the same level as image C), showing central filling defect in the right lower lobe artery (arrow), associated with pulmonary thromboembolism.
(0.28MB).
PJP is a serious, opportunistic infection, commonly seen in patients with advanced HIV infection, but it can also affect patients who are immune deficient for other reasons (high corticosteroid doses or immunosuppressants, anticancer treatments, etc.). In recent years, the incidence of PJP has risen in non-HIV patients. Moreover, in patients without HIV, PJP is more aggressive and generally has a higher mortality rate than in patients with HIV infection.4 Temozolomide is a relatively new alkylating anticancer drug used in the treatment of high-grade glial tumors. One of its effects is to induce lymphocytopenia and T cell dysfunction, predisposing patients to developing PJP. This complication is particularly common in patients receiving concomitant corticosteroids and radiation therapy (2 standard treatments in patients with central nervous system tumors), so the prophylactic administration of trimethoprim–sulfamethoxazole is usually recommended to prevent its appearance.2 Thromboembolic disease is also relatively common in patients with glioblastoma (up to 33% of GM patients develop deep vein thrombosis and/or pulmonary embolism, according to a recent study), particularly in the first month after neurosurgery and during chemotherapy.5 Few references are available in the literature that describe PJP in patients receiving temozolomide and to our knowledge none has described concomitancy with pulmonary thromboembolism.
We believe that knowledge of this specific infectious respiratory complication in GM patients receiving temozolomide is important for early detection and optimal management.
Please cite this article as: Sarasúa LG, Ureña-Vacas A, Muñoz del Toro JR. Neumonía por Pneumocystis jirovecii complicando la evolución de una paciente con glioblastoma multiforme en tratamiento con temozolomida. Arch Bronconeumol. 2016;52:534–535.