Full Text
Paciente de 63 años con antecedentes de hemorragia digestiva alta por AINE, que acudió por tos y disnea de pocos días de evolución, sin fiebre, junto con dolor a la palpación cervical e importante elevación de reactantes de fase aguda.
Se solicitó una angiotomografía computarizada (angio-TC) torácica para valoración de arterias pulmonares por sospecha de tromboembolismo pulmonar, apreciando únicamente cambios inflamatorios mediastínicos.
Dicho estudio se completó con ecografía y TC cervical con contraste, identificando una formación quística con extensión intratorácica que dependía del lóbulo tiroideo izquierdo (fig. 1A), con ecos internos móviles y tabiques, paredes irregulares hipercaptantes en la TC, y discontinuidad de la vertiente más caudal de la misma (fig. 1B). Además, aumento de densidad de la grasa mediastínica superior junto con adenopatías reactivas (fig. 1C). Estos hallazgos sugerían quiste tiroideo complicado con rotura y signos de mediastinitis secundaria.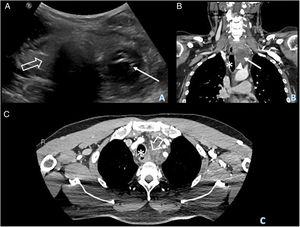 Figura 1.
A) Ecografía de cuello en modo B, donde se observa la glándula tiroides (flecha hueca) con una lesión quística con tabiques y ecos móviles en su interior dependiente de su lóbulo izquierdo (flecha fina). B y C) TC cérvico-torácica con contraste intravenoso en planos coronal (B) y axial (C). Se observa una formación de densidad quística que parece depender del polo inferior del lóbulo tiroideo izquierdo, con extensión intratorácica (flecha fina), y que condiciona desplazamiento hacia la derecha de la tráquea (asteriscos) y esófago, con engrosamiento parietal del mismo. En el margen más caudal de la lesión quística se observa discontinuidad de su pared (cabeza de flecha), en probable relación con rotura. Asocia aumento de densidad de la grasa mediastínica superior, así como adenopatías (flecha hueca), sugerentes de cambios inflamatorios mediastínicos.
(0.05MB).
Se realizó cirugía urgente con cervicotomía, desbridamiento y hemitiroidectomía izquierda, añadiendo piperacilina-tazobactam y linezolid. La anatomía patológica confirmó la presencia de un quiste tiroideo roto y complicado con restos necróticos e infiltrado inflamatorio agudo.
El caso que presentamos ilustra una causa de mediastinitis aguda no descrita hasta la actualidad: la rotura espontánea de un quiste tiroideo. Aunque existen casos publicados como complicación de ablación o biopsia tiroidea1,2, no se habían presentado previamente mediastinitis por roturas espontáneas sin manipulación previa.
Financiación
Este trabajo de investigación no ha recibido ningún tipo de apoyo financiero específico de instituciones públicas, privadas o sin ánimo de lucro.
Bibliografía
[1]
T.L.W. Wong, R. Jaafar.
Spontaneous rupture of hemorrhagic thyroid nodules causing extensive laryngopharyngeal, neck, and chest hematoma.
Egypt J Otolaryngol, 33 (2017), pp. 128-130
[2]
J.H. Shin, S.L. Jung, J.H. Baek, J.H. Kim.
Rupture of benign thyroid tumors after radio-frequency ablation.
Am J Neuroradiol, 32 (2011), pp. 2165-2169