Full Text
Mujer de 36 años que consulta por bultoma cervical en línea media inferior con la maniobra de Valsalva. En reposo el bultoma desaparece. Se realiza ecografía cervical que aprecia una lesión redondeada de 2cm, anecoica. Se completa con una tomografía computarizada (TC) cervicotorácica (fig. 1) en reposo y Valsalva. Se confirma la lesión quística redondeada que, en reposo, se localiza paratraqueal derecha y en Valsalva asciende y se localiza anterior en región cervical. No depende de ninguna estructura. Por la semiología radiológica y la localización paratraqueal derecha se diagnostica de probable quiste broncogénico. Se remite a la paciente para cirugía del quiste que se realiza a través de cervicotomía y la anatomía patológica confirma un quiste broncogénico.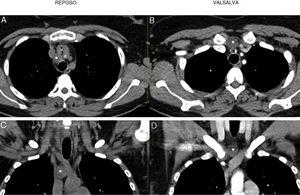 Figura 1.
A y B) TC sin y con contraste, cortes axiales en reposo y Valsalva. A) En reposo, lesión quística (*) paratraqueal derecha localizada posterior al tronco innominado venoso (v) y posterolateral al tronco braquiocefálico arterial (a). B) En Valsalva, la lesión quística (*) asciende por la grasa del mediastino superior a región cervical supraesternal y se localiza anterior al tronco venoso innominado (v) y al tronco braquiocefálico arterial (a). C y D) TC reconstrucción coronal en reposo (C) y Valsalva (D). Se aprecia que con la maniobra de Valsalva el quiste (*) asciende desde el mediastino unos 3cm para localizarse anterior en región cervical.
(0.15MB).
Los quistes broncogénicos son lesiones quísticas del desarrollo que se presentan típicamente en mediastino, de localización paratraqueal derecha o subcarinal. Puede presentar localizaciones atípicas como intrapulmonares o cervicales1. Lo curioso de este caso es la movilidad del quiste que hacía que, de una localización típica paratraqueal ascendiera 3cm a una localización cervical atípica. Esta movilidad pudo evidenciarse en el estudio de la TC al hacerlo con las maniobras adecuadas como se ha descrito en otros casos de lesiones cervicales2, lo que ayudó a realizar el diagnóstico y definir la localización anatómica de cara a la cirugía.
Bibliografía
[1]
A. Cilleruelo Ramos, Y. Ovelar Arribas, M. García Yuste.
Quiste broncogénico cervical en adultos. Presentación de un caso y revisión de la literatura.
Arch Bronconeumol, 51 (2015), pp. 95-96
[2]
K.V. Hegde, P. Suneetha, P.V. Pradeep, P. Kumar.
Asymptomatic thymic cyst appearing in the neck on Valsalva: Unusual presentation of a rare disease.
J Clin Imaging Sci, 2 (2012), pp. 11