Full Text
Dear Editor:
The diagnostic approach to diffuse parenchymal lung diseases (DPLD) often requires histological characterization. Surgical lung biopsy (SLB), the classical technique, is associated with significant morbidity and mortality and considerable costs. Furthermore some patients, given their advanced age and comorbidities, are not candidates for SLB.1,2
Transbronchial lung cryobiopsy (TBC) is a recently introduced technique that uses cryoprobes in order to obtain large lung parenchyma specimens. When compared to SLB, it presents several advantages: lower mortality and complication rates, shorter time of hospitalization, it can be performed in an outpatient setting, and it may be executed in some patients not suitable to SLB.1,3
Although TBC has been described as a generally safe procedure, it has already been associated with some severe and even fatal complications.1,4 We report a case of pneumomediastinum, bilateral pneumothorax and subcutaneous emphysema as a result of bronchial laceration while performing TBC.
The 124th TBC performed at our center was in an 80-years-old non-smoking woman complaining of gradually worsening cough, wheeze and dyspnea on exertion for the last 5 years. She was a retired seamstress and denied any relevant exposure history. Pulmonary function tests revealed a moderate defect in carbon monoxide diffusing capacity (51%). High-resolution computed tomography (HRCT) of the chest displayed ground glass opacities, heterogeneous and diffusely distributed, raising as first diagnostic hypotheses hypersensitivity pneumonitis or non-specific interstitial pneumonia.
According to our institution's protocol, TBC was performed through a rigid tracheoscope (12, Storz®) under general anesthesia and jet ventilation. A flexible 1.9mm cryoprobe was first passed through a videobronchoscope into the left lower lobe (B9), under fluoroscopic guidance. After confirming correct positioning (tip of the probe perpendicular and about to 10mm from the chest wall), a freezing time of 5s was applied, time after which the videobronchoscope and cryoprobe were removed as a single unit and a bronchial blocker balloon (Olympus® B5-2c) previously placed in the segment was inflated, in order to prevent hemorrhage. The procedure was repeated in the left upper lobe (B4) using a second bronchial balloon, being the first one left inflated in the B9. Only moderate bleeding was verified, controlled with bronchial occlusion and instillation of ice-cold saline. Three lung samples were obtained from the left lower lobe and 2 from the left upper lobe. After deflation of the bronchial blocker balloons and confirmation of absence of bleeding, the procedure was given as concluded. After 2h the chest radiograph revealed a marginal left pneumothorax, considered without indication for chest tube drainage (Fig. 1A). The patient was admitted for vigilance and the subsequent exams showed a pneumomediastinum, small volume bilateral pneumothorax and exuberant subcutaneous emphysema (Fig. 1B and C). An enlarged area along the B9 segmental bronchus suspicious of a bronchus laceration was also evident (Fig. 1C). The patient was polipneic, but alert and oriented, hemodynamically stable and with oxygen saturation with a high flow oxygen mask of 97%. After discussion among Pulmonology, Intensive Care and Thoracic Surgery physicians, it was decided an initial conservative treatment in an intermediate care unit. The clinical evolution under conservative management was favorable, with progressive improvement. After five days the chest radiography had no longer the previous mentioned changes (Fig. 1D), the patient was asymptomatic and was discharged. The histology of the biopsy was consistent with a chronic hypersensitivity pneumonitis and the patient was started on corticosteroids.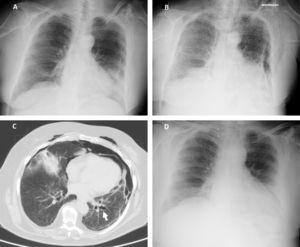 Fig. 1.
(A) Chest radiography 2h following the cryobiopsy showing a marginal left pneumothorax. (B) Chest radiography 4h after the procedure revealing bilateral pneumothorax, pneumomediastinum and subcutaneous emphysema. (C) Computed tomography scan revealing an enlarged area along the lateral basal segmental bronchus (arrow) suspicious of a bronchial laceration. (D) Chest radiography five days after the cryobiopsy showing resolution of the complications.
(0.15MB).
The diagnostic approach of DPLD requires in many cases of histological support. Surgical biopsy has an associated mortality rate of 2.3–2.7%, contrasting with 0.3–0.5% of pulmonary cryobiopsy.1,2 Transbronchial cryobiopsy, although described with a diagnostic yield lower than SLB (84.4% versus 91.1% respectively, according to Sharp et al.2), has been used as an alternative method, prior to surgical approach or in cases where surgical lung biopsy is a concern due to comorbidities, severely impaired lung function or patient refusal. Notwithstanding, despite being a less invasive technique, TBC is not devoid of life-threatening complications.
The most frequent adverse event related to this technique is pneumothorax, reported in up to one-fourth of cases in some series.1,5 Bleeding is another frequently described complication, normally controlled with prophylactic bronchial blockade and instillation of ice-cold saline. However, some severe bleeding cases requiring surgical intervention, transfusion or admission to the intensive care unit have been reported.1 Other reported adverse events are prolonged air leak, acute exacerbation of the underlying interstitial lung disease, transient respiratory failure, seizures and pulmonary abscess.1,6,7 Although pneumothorax is the most frequent described adverse event, to our knowledge this is the first reported case of concomitant bilateral pneumothorax and pneumomediastinum complicating this technique.
Lateral basal bronchus laceration was probably the factor that led to these complications. The bronchial blocker balloon left inflated under high pressure in the left 9th segmental bronchus possibly caused a bronchial laceration that was left unnoticed after its deflation. Another possible explanation could be an area of bronchial fragility where the balloon was inflated, leading to a laceration. Some studies suggest a higher incidence of pneumothorax and other adverse events in intubated patients and when jet ventilation was used.8,9 It is uncertain whether the performance of this cryobiopsy in our intubated patient, using jet ventilation, was also a factor contributing to the magnitude of the reported complications. Besides, the biopsies in 2 lobes may have also played a role.
Conservative treatment of bronchial lacerations may be an option with a high probability of success in some patients, especially those with iatrogenic tracheobronchial injury.10 Regarding the pneumomediastinum treatment, the tissues in the mediastinum will slowly resorb the air in the cavity so most pneumomediastinums are treated conservatively, with measures toward symptom relief.11 This was the case of our patient, whose clinical evolution under conservative management was favorable, with progressive clinical and radiological resolution.
Given the growing importance of TBC, which might soon be integrated in the routine diagnostic workup of patients with DPLD, it is important to report these severe adverse events attempting to limit them. We believe that standardization of this technique is warranted in order to minimize complications.