Full Text
A 59-year-old asymptomatic woman was referred to our outpatient clinic to investigate a diffuse cystic lung disease (DCLD) incidentally found on abdominal computed tomography (CT). Her past medical history revealed obstructive sleep apnea and Paget disease, for which she used zoledronic acid. She denied smoking and had no relevant exposure. Physical examination was normal and her peripheral oxygen saturation was 98% on room air. Chest high-resolution CT (HRCT) revealed multiple thin-walled pulmonary cysts diffusely distributed in both lungs and a 10mm ground-glass nodule in the right upper lobe (Fig. 1). Pulmonary function tests (PFTs) showed normal spirometry, air trapping (RV, 166% of predicted; RV/TLC ratio, 0.51) and a mild reduction in DLCO (60% of predicted). Serum markers of inflammatory activity, protein electrophoresis, alpha 1 antitrypsin serum dosage were normal, and antinuclear antibodies, rheumatoid factor, anti-Ro/SSA and anti-La/SSB were negative. The serum level of vascular endothelial growth factor-D was 407pg/mL and abdominal ultrasound and scintigraphy of salivary glands were normal. She refused to undergo a surgical lung biopsy for diagnostic elucidation. The nodule remained stable during the follow-up.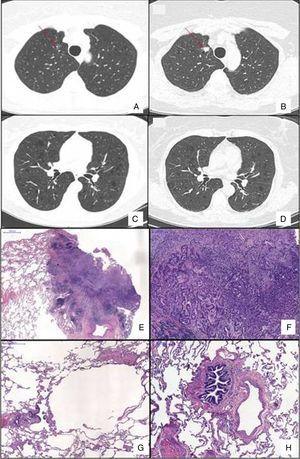 Fig. 1.
Chest HRCT scans showing diffuse cystic lung disease and a solitary pulmonary nodule (red arrow) in the beginning of follow-up (A and C) and five years later (B and D). (A) Regular and thin-walled pulmonary cysts and a 10mm pure ground-glass nodule in the right upper lobe. (B) CT image at the same level as Fig. 1A after five years of follow-up showing a significant increase in the size of the nodule (13mm) and change in its composition (a solid nodule). (C) Random and multiple thin-walled cysts. (D) Stability of diffuse pulmonary cysts five years later. (E) A low-power view of the tumor with a dense area of scarring. (F) Invasion area with desmoplastic tissue, irregular glands and micropapillae. (G) Constricted airway and peribronchiolar alveolar overdistension. (H) Bronchiole with submucosal fibrosis and focal inflammatory cell infilltrate. (H&E stains, original magnification (A) ×10, (B) ×50, (C) ×40 and (D) ×100).
(0.8MB).
After 5 years of follow-up, PFTs were stable and there was an increase in the nodule size (13mm), with a solid composition (Fig. 1). There was a mild increase of glycolytic metabolism (SUV 2.6) on the combined positron emission tomography/CT. There was no evidence of lymph node enlargement or extrapulmonary disease. A right upper lobectomy with lymphadenectomy was performed after an adenocarcinoma has been confirmed in the intraoperative frozen section. Histopathological analysis revealed a predominantly acinar invasive adenocarcinoma, with lepidic and micropapillary components, which was classified as Stage IA (T1aN0M0). The lung parenchyma around the tumor revealed a heterogeneous small airway disease characterized by variable narrowing of the small airways, abnormal bronchioles with subepithelial fibrosis and scattered chronic inflammatory cells, associated with peribronchiolar alveolar overdistension, which was consistent with constrictive bronchiolitis (Fig. 1).
The differential diagnosis of DCLD is broad and establishing a definite diagnosis may be challenging. Although chest HRCT has substantially contributed to the approach of DCLD, lung biopsy may be necessary to confirm the etiology.1,2 Constrictive bronchiolitis is rarely included in the differential diagnosis of DCLD, but it is a potential etiology.1,2 The proposed physiopathology involved is a bronchiolar check-valve mechanism, with air trapping and distension of distal airspace resulting in cysts formation.3 Our case corroborates such hypothesis, supported by the finding of downstream hyperdistension of distal airways and alveolar spaces.
One may also speculate about the relationship between the small airway disease and the incidental lung cancer. The initially detected ground glass opacity was compatible with a spectrum of early neoplastic or pre-malignant lesions comprising atypical adenomatous hyperplasia, adenocarcinoma in situ and minimally invasive adenocarcinoma, which progressed to a solid nodule, proven to be an invasive adenocarcinoma. Early genetic or epigenetic changes leading to altered function or aberrant cellular pathways, thought to develop through lung tissue injury, are recognized as precursors of premalignant changes, such as cell metaplasia/dysplasia or clonal patches.4 We speculate that the molecular changes in the airway epithelium of an affected bronchiole in the context of constrictive bronchiolitis might account for the increased risk of developing non-small-cell lung carcinoma in our patient, although this association requires further confirmation. In conclusion, constrictive bronchiolitis should be included as a differential diagnosis of DCLD and it is speculated that it may determine an increased risk of lung cancer.