Full Text
A healthy 74-year-old man presented with increasing dyspnea for the last 5-months. Laboratory tests revealed thrombocytopenia (<60,000platelets/μl) and increased D-dimer (1800ng/mL). Initial transthoracic echocardiography demonstrated elevated pulmonary artery systolic pressure (PASP=54mmHg) suggesting severe pulmonary hypertension. Dual-energy CT (DECT) pulmonary angiography was performed to rule out pulmonary thromboembolism (PTE). CT images showed a large low-attenuation filling defect occupying almost completely the luminal diameter of the pulmonary trunk and main pulmonary arteries (PA) that expanded the arterial wall (Fig. 1 Panels A–C). With the clinical suspicion of pulmonary artery sarcoma (PAS) a cardiac-MRI (Panel E) was performed for better characterization. It showed subtle gadolinium enhancement suggesting a tumoral etiology rather than thrombus. The mass was surgically resected. Histological and immunohistochemical analysis revealed malignant cell infiltration (positive for MDM-2-gen, vimentin; negative for CD-34), and confirmed the diagnosis of PAS.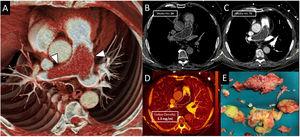 Fig. 1.
Panel A. Dual-energy CT (DECT) pulmonary angiography. The cinematic rendered reconstruction showed a pulmonary artery filling defect that expanded the arterial wall (arrow). Panels B–D. Virtual non-contrast (Panel B) and blended CT (Panel C) images demonstrated density increase within the lesion, revealing contrast uptake. This was confirmed with the iodine quantification map (Panel D) that showed high iodine concentration in the pulmonary defect (>1mg/ml). Panel E. T1-weighted post-gadolinium cardiac MRI demonstrated subtle enhancement of the pulmonary artery filling defect.
(0.13MB).
Pulmonary artery sarcoma may be an incidental finding in patients undergoing pulmonary CT angiography to rule out pulmonary embolism. Due to the fact that the imaging findings and the clinical aspects of these two entities are quite similar, diagnosis of PAS is difficult. Recently, dual-energy (DECT) spectral imaging has been added to traditional pulmonary CT angiography study protocols. This feature enables tissue characterization by differentiating iodine (contrast) from other materials. It also allows to quantify the amount of iodine to assess vascularization. In our case, the PA filling defect showed high iodine concentration (>1mg/ml, Panel D) as opposed to thrombi, that tend to present absence of iodine uptake (<1mg/ml).1,2
Conflicts of interest
Nothing to disclose.
References
[1]
S. Chang, J. Hur, D.J. Im, et al.
Dual-energy CT-based iodine quantification for differentiating pulmonary artery sarcoma from pulmonary thromboembolism: a pilot study.
Eur Radiol, 26 (2016), pp. 3162-3170
[2]
C. Kim, M.Y. Kim, J.W. Kang, J.S. Song, K.Y. Lee, S.S. Kim.
Pulmonary artery intimal sarcoma versus pulmonary artery thromboembolism: CT and clinical findings.
Korean J Radiol, 19 (2018), pp. 792-802