Full Text
A 70-year-old man with locally advanced gallbladder carcinoma underwent a combined portal and hepatic veins embolization (CPHVE, Fig. 1A) as a bridge procedure for generating hypertrophy of the nonembolized liver before major hepatectomy. Before embolization of the right hepatic vein with a mixture of cyanoacrylate and lipiodol, a vascular plug was deployed in the distal part of the vein to avoid migration of the embolic agent to the inferior vena cava. However, a computed tomography (CT) performed 24h later demonstrated several high-attenuation filling defects in subsegmental arteries of the left lower lobe as well as a partial consolidation of the left lung base, consistent with cyanoacrylate-lipiodol pulmonary embolism (Fig. 1B, C). The patient was managed without anticoagulation, and the consolidation resolved two weeks later (Fig. 1D).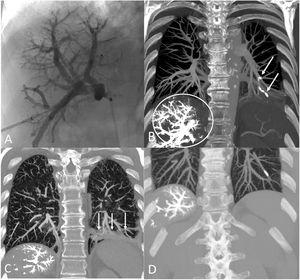 Fig. 1.
(A) Digital subtraction angiogram shows the right portal vein embolization procedure using cyanoacrylate-lipiodol. (B) Coronal thoracic maximum intensity projection (MIP) CT image performed 24h after the combined portal and hepatic veins embolization (circle) shows the migration of cyanoacrylate-lipiodol to subsegmental left lower lobe arteries (arrows). (C) Coronal thoracic MIP CT image (lung window) shows a partial consolidation of the left lower lobe (arrows). (D) Coronal upper abdominal MIP CT image (lung window) performed 2 weeks later shows resolution of the left lower lobe consolidation.
(0.19MB).
CPHVE as a preparation for major hepatectomy is a rather new procedure that could increase the resectability of cancer patients initially deemed unsuitable for liver resection because of insufficient hypertrophy of the future remnant liver. Recent papers describing the CPHVE technique have not reported pulmonary embolization of the embolic agents as a complication of the procedure.1,2 Although CPHVE appears to be a safe technique, cyanoacrylate-lipiodol pulmonary embolization may still occur despite the deployment of vascular plugs in the hepatic vein.
Conflict of interests
The authors state that they have no conflict of interests.
References
[1]
B. Guiu, P. Chevallier, A. Denys, E. Delhom, M.A. Pierredon-Foulongne, P. Rouanet, et al.
Simultaneous trans-hepatic portal and hepatic vein embolization before major hepatectomy: the liver venous deprivation technique.
Eur Radiol, 26 (2016), pp. 4259-4267
[2]
F. Esposito, C. Lim, E. Lahat, C. Shwaartz, R. Eshkenazy, C. Salloum, et al.
Combined hepatic and portal vein embolization as preparation for major hepatectomy: a systematic review.
HPB (Oxford), 21 (2019), pp. 1099-1106