Full Text
A 54 year-old female presented with chest pain. A posterior mediastinal mass was detected in the radiological evaluation (Fig. 1). Mediastinal neurogenic tumor, primarily schwannoma, was suspected. Mediastinal lesion was resected thoracoscopically and histopathological examination was reported as enchondroma.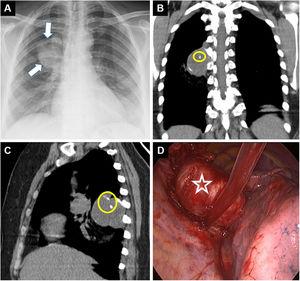 Fig. 1.
Direct posteroanterior radiograph (A) shows a lesion of approximately 7cm×5cm at the level of the 7th rib (arrows). Coronal (B) and sagittal (C) thorax CT sections show a mass lesion located posterior mediastinally, with smooth borders, and containing areas of central and peripheral calcification (circle). The intraoperative view (asterisk) of the thoracoscopically resected lesion is seen (D).
(0.11MB).
Enchondromas, which are benign cartilage tumors, tend to settle in the small bones of the hands and feet. Enchondromas usually occur solitarily and are non-cancerous lesions. Involvement of the thoracic wall is rare and usually occurs on the costal surfaces. Enchondromas rarely develop into chondrosarcomas. Complete surgical excision is the treatment of choice for these tumors because of malignant degeneration.1,2 It should be kept in mind that enchondroma may rarely mimic neurogenic tumors by localizing in the posterior mediastinal area.
Financial support
The authors received no financial support for the research and/or authorship of this article.
Conflict of interest
The authors declare that they have no conflict of interest to the publication of this article.
References
[1]
A. Samaddar, A.K. Mishra, M. Katti, A. Gangopadhayay.
Successful surgical management of periosteal chondroma of the left second rib: a case report.
Indian J Thorac Cardiovasc Surg, 35 (2019), pp. 101-103
[2]
J. Guo, J.Z. Gao, L.J. Guo, Z.X. Yin, E.X. He.
Large enchondroma of the thoracic spine: a rare case report and review of the literature.
BMC Musculoskelet Disord, 18 (2017), pp. 155