Abstract
Introduction
Dyspnea is a multidimensional symptom, but this multidimensionality is not considered in most dyspnea questionnaires. The Dyspnea-12 takes a multidimensional approach to the assessment of dyspnea, specifically the sensory and the affective response. The objective of this study was to translate into Spanish and validate the Dyspnea-12 questionnaire.
Methods
The original English version of the Dyspnea-12 questionnaire was translated into Spanish and backtranslated to analyze its equivalence. Comprehension of the text was verified by analyzing the responses of 10 patients. Reliability and validation of the questionnaire were studied in an independent group of COPD patients attending the pulmonology clinics of Hospital Universitario Marqués de Valdecilla, diagnosed and categorized according to GOLD guidelines.
Results
The mean age of the group (n=51) was 65 years and mean FEV1 was 50%. All patients understood all questions of the translated version of Dyspnea-12. Internal consistency of the questionnaire was α=0.937 and intraclass correlation coefficient was =0.969; P<.001. Statistically significant correlations were found with HADS (anxiety r=0.608 and depression r=0.615), mMRC dyspnea (r=0.592), 6MWT (r=–0.445), FEV1 (r=–0.312), all dimensions of CRQ-SAS (dyspnea r=–0.626; fatigue r=–0.718; emotional function r=–0.663; mastery r=–0.740), CAT (r=0.669), and baseline dyspnea index (r=–0.615). Dyspnea-12 scores were 10.32 points higher in symptomatic GOLD groups (B and D) (P<.001).
Conclusion
The Spanish version of Dyspnea-12 is a valid and reliable instrument to study the multidimensional nature of dyspnea.
Keywords:
Dyspnea
Dyspnea-12
Chronic obstructive pulmonary disease
Validation
Spanish
Resumen
Introducción
La disnea es un síntoma con un componente multidimensional, aunque las herramientas que se utilizan habitualmente para evaluarla no tienen en cuenta esta faceta. El cuestionario Disnea-12 valora la multidimensionalidad de la disnea, específicamente las dimensiones afectiva y sensorial. El objetivo de este estudio es validar el cuestionario Disnea-12 al español.
Métodos
Se realizó una traducción del original en inglés al español y del español al inglés para verificar la equivalencia del texto. Posteriormente se verificó la comprensión del texto tras pasárselo a 10 pacientes. La fiabilidad y la validez del cuestionario se estudiaron en un grupo independiente de EPOC diagnosticados y clasificados por las guías GOLD de las consultas externas de neumología del Hospital Universitario Marqués de Valdecilla.
Resultados
El grupo (n=51) tenía una media de edad de 65 años y un FEV1 medio del 50%. Todos los pacientes entendieron las preguntas del cuestionario. El instrumento presentó consistencia interna de α=0,937 y un coeficiente de correlación intraclase: 0,969; p<0,001. Se encontraron correlaciones estadísticamente significativas con las puntuaciones del HAD (HADansiedad r=0,608 y HADdepresión r=0,615), disnea de la mMRC (r=0,592), T6MM (r=–0,445), FEV1 (r=–0,312), las 4 dimensiones de CRQ-SAS (disnea r=–0,626; fatiga r=–0,718; función emocional r=–0,663; control de enfermedad r=–0,740), el CAT (r=0,669) y el índice de disnea basal (r=–0,615). Los grupos GOLD más sintomáticos (B y D) presentaron una puntuación 10,32 puntos mayor en en el Disnea-12 (p<0,001).
Conclusión
El cuestionario Disnea-12 es un instrumento válido y fiable para evaluar la disnea de forma multidimensional.
Palabras clave:
Disnea
Disnea-12
Enfermedad pulmonar obstructiva crónica
Validación
Español
Article
These are the options to access the full texts of the publication Archivos de Bronconeumología (English Edition)
Subscribe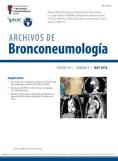 Subscribe to
Archivos de Bronconeumología (English Edition)