Article information
Statistics
Tables (3)
Table 1. Demographic, Clinical and Functional Characteristics of IPF Patients Included in the Validation Study of the Spanish Version of the SGRQ-I.
Abstract
Introduction
Interstitial lung disease (ILD) is associated with low exercise tolerance, dyspnea, and decreased health-related quality of life (HRQL). Idiopathic pulmonary fibrosis (IPF) is one of the most prevalent in the group. A specific version of the Saint George's questionnaire (SGRQ-I) has been developed to quantify the HRQL of IPF patients. However, this tool is not currently validated in the Spanish language. The objective was to translate into Spanish and validate the specific Saint George's Respiratory Questionnaire for idiopathic pulmonary fibrosis (SGRQ-I).
Methods
The repeatability, internal consistency and construct validity of the SGRQ-I in Spanish were analyzed after a backtranslation process.
Results
In total, 23 outpatients with IPF completed the translated SGRQ-I twice, 7 days apart. Repeatability was studied, revealing good concordance in test–retest with an ICC (interclass correlation coefficient) of 0.96 (P<.001). Internal consistency was good for different questionnaire items (Cronbach's alpha of 0.9 including and 0.81 excluding the total value) (P<.001).
The total score of the questionnaire showed good correlation with forced vital capacity FVC% (r=−0.44; P=.033), diffusing capacity of the lungs for carbon monoxide (DLCO%) (r=−0.55; P=.011), partial pressure of oxygen in arterial blood PaO2 (r=−0.44; P=.036), Medical Research Council Dyspnea scale (r=−0.65; P<.001), and number of steps taken in 24h (r=−0.47; P=.024).
Conclusions
The Spanish version of SGRQ-Ideveloped by our group shows good internal consistency, reproducibility and validity, so it can be used for the evaluation of quality of life (QOL) in IPF patients.
Keywords:
Idiopathic pulmonary fibrosis
Quality of life
Saint George's respiratory questionnaire
Resumen
Introducción
Las enfermedades pulmonares intersticiales (EPI) se asocian a una baja tolerancia al ejercicio, disnea y disminución de la calidad de vida relacionada con la salud (CVRS). La fibrosis pulmonar idiopática (FPI) es una de las más prevalentes del grupo. Para cuantificar su CVRS, se ha desarrollado una versión específica del cuestionario Saint George (SGRQ-I). Sin embargo, esta herramienta no está actualmente validada en el idioma español. El objetivo fue traducir al idioma español y validar el SGRQ-I en pacientes con FPI.
Métodos
Se estudiaron la repetibilidad, la consistencia interna y la validez de constructo del SGRQ-I en español obtenido luego del proceso de traducción reversa.
Resultados
Veintitrés pacientes con FPI completaron 2 veces el cuestionario traducido con 7 días de diferencia cada uno. Encontramos una buena concordancia en el test-retest, con un coeficiente de correlación intraclase (CCI) de 0,96 (p<0,001). En el estudio de la consistencia interna hallamos un coeficiente alfa de Cronbach de 0,9 al incluir al valor total, y de 0,81 al excluirlo (p<0,001), lo cual evidencia una buena interrelación de los diferentes ítems del cuestionario.
El valor total del cuestionario mostro buena correlación con FVC% (r=–0,44; p=0,033), DLCO% (r=–0,55; p=0,011), PaO2 (r=–0,44; p=0,036), disnea escala modificada de Medical Research Council (r=–0,65; p<0,001), y pasos dados en 24h (r=–0,47; p=0,024).
Conclusión
La versión en español del SGRQ-I desarrollada por nuestro grupo tiene buena consistencia interna, es reproducible y es válida para evaluar calidad de vida en pacientes con FPI.
Palabras clave:
Fibrosis pulmonar idiopática
Calidad de vida
Cuestionario Saint George
Article
These are the options to access the full texts of the publication Archivos de Bronconeumología (English Edition)
Subscribe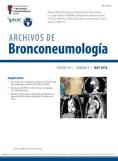 Subscribe to
Archivos de Bronconeumología (English Edition)